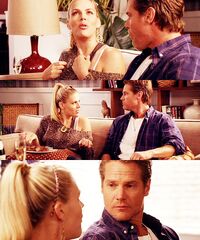 "Beef & Bubbles" are the secret detective names of Bobby Cobb and Laurie Keller. Laurie originated the idea while the pair ate steak (beef) and drank champagne (bubbles) at Grayson Ellis' home during a game of hide-and-go-seek. Laurie also developed a plot for their show: "He's Beef, a grizzled ex-marine with a secret: he's a vegetarian. She's Bubbles, his plucky partner with a secret of her own: she's Beef's daughter. Together they fight crime and each week they grow a little bit closer together."[1]
References
Edit
Ad blocker interference detected!
Wikia is a free-to-use site that makes money from advertising. We have a modified experience for viewers using ad blockers

Wikia is not accessible if you've made further modifications. Remove the custom ad blocker rule(s) and the page will load as expected.