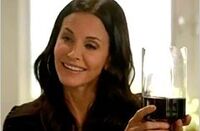 Big Carl is the second of Jules' over-sized wine glasses and was originally the base of a lamp.[1] Jules purchased Big Carl to replace Big Joe after he was destroyed.[2] Big Carl met his demise at the hands of Stan Torres during Fakesgiving.[3]
Big Carl holds approximately 44 oz (or 5 1/2 cups).[4]
Reference
Edit
Ad blocker interference detected!
Wikia is a free-to-use site that makes money from advertising. We have a modified experience for viewers using ad blockers

Wikia is not accessible if you've made further modifications. Remove the custom ad blocker rule(s) and the page will load as expected.