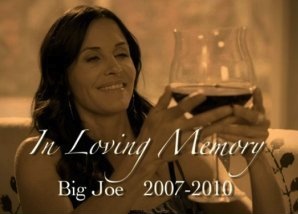 Jules first saw Big Joe while shopping in a thift store with Ellie during 2007. He was filled with pennies, but Jules saw more potential. After years of service and comfort Big Joe was accidentally destroyed by Kirsten in 2010. During his memorial, Jules introduced is the the group to his replacement, Big Carl.[1]
Big Joe made its first appearance in the Season Two premiere, All Mixed Up.
Big Joe holds approximately 44 oz (or 5 1/2 cups).[2]
Reference
Edit
Ad blocker interference detected!
Wikia is a free-to-use site that makes money from advertising. We have a modified experience for viewers using ad blockers

Wikia is not accessible if you've made further modifications. Remove the custom ad blocker rule(s) and the page will load as expected.