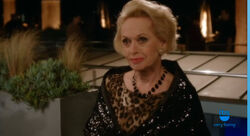 Big Tippi is the fourth of Jules' large wine glasses. She was originally a vase for The Cul-de-Sac Crew's hotel in Hollywood, which they permanently borrowed. She is named after Tippi Hendren.[1] She replaced Big Lou after he was destroyed when Grayson accidentally knocked him off the counter while dancing.[2]
Reference
Edit
Ad blocker interference detected!
Wikia is a free-to-use site that makes money from advertising. We have a modified experience for viewers using ad blockers

Wikia is not accessible if you've made further modifications. Remove the custom ad blocker rule(s) and the page will load as expected.