Bobby Cobb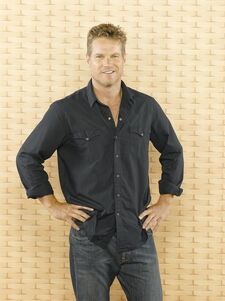 | | |
| --- | --- |
| First appearance | "Pilot" |
| Last appearance | Ongoing |
Bobby "Wrong Balls" Cobb (portrayed by Brian Van Holt) is Jules Cobbs amiable ex-husband.
Biography
Edit
Bobby Cobb married Jules after she became pregnant at age 22. Bobby was unfaithful for years eventually leading to their divorce.[1] Bobby is a classic under-achiever who'll test Jules' patience as they attempt to raise their teenage son, Travis.
Bobby has worked a number of jobs including cutting the grass at North Gulfhaven High School and offering private golf lessons. Recently Bobby returned to semi-professional golfing.[2] He has also come into a large sum of money by selling the rights to Penny Can.[3]
Bobby has invented several games, including Penny Can[4] and Domination Ball.[5]
Bobby's speech is sometimes very difficult to follow.[6]
Bobby received this nickname, "Wrong Balls", after hitting his competitors ball at a semi-professional golf tournament.[7]
Bobby gives his friends nicknames like: J-Bird for Jules, E-Train for Ellie, G-Man fo Grayson and T-Bone for Travis.
References
Edit
Ad blocker interference detected!
Wikia is a free-to-use site that makes money from advertising. We have a modified experience for viewers using ad blockers

Wikia is not accessible if you've made further modifications. Remove the custom ad blocker rule(s) and the page will load as expected.