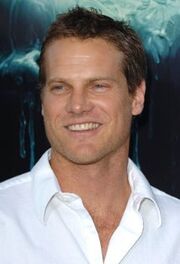 Brian Van Holt portrays Bobby Cobb on Cougar Town.
Born in Illinois in 1969, Brian has been acting for the screen since 1996 when he first appeared in an episode of Flipper. He has since appeared in over 37 productions. He is best known for his roles in the films House of Wax, S.W.A.T., Black Hawk Down, Basic, and Windtalkers. He can also be seen in ten episodes of John from Cincinnati and was a lead on the short-lived series Threshold.
Ad blocker interference detected!
Wikia is a free-to-use site that makes money from advertising. We have a modified experience for viewers using ad blockers

Wikia is not accessible if you've made further modifications. Remove the custom ad blocker rule(s) and the page will load as expected.