Chalk Children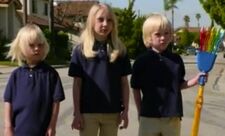 Full Name
Royce, (unrevealed) & (unrevealed)
Nicknames
Chalk Children, Creepy Chalk Kids
Portrayed by 
Nickolas Kyriakos, Dusty Burkwell, & Dominique Dorian
The Chalk Children are three of creepy homeschooled children living on/near Freeling Drive.
Biography
Edit
The "Chalk Children" are a group of three young, creepy, emotionless, dark homeschooled children living on/near Freeling Drive in Gulfhaven. They often use chalk to draw eerie/disburbing drawings neighborhood sidewalks and driveways. Its reported that they draw what they dream.[1]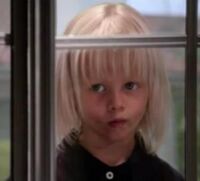 The Chalk Children began to leave ominous drawnings on Ellie and Grayson's driveways. Tom warned them about the Chalk Children. According to Tom, if one destroys/erases their chalk drawings then bad things happen (branches fall, windows break, chins disappear). The three bonded in their fear of the Chalk Children, and together scared them to prevent further graffiti on their driveways.[2]


Reference
Edit
Ad blocker interference detected!
Wikia is a free-to-use site that makes money from advertising. We have a modified experience for viewers using ad blockers

Wikia is not accessible if you've made further modifications. Remove the custom ad blocker rule(s) and the page will load as expected.