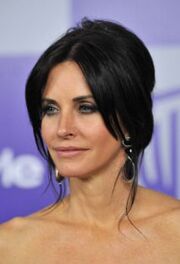 Courteney Cox portrays Jules Cobb on Cougar Town.
Born in Alabama, Courteney was 20 years old when she appeared in an episode of As the World Turns. From there, she went on to hold recurring roles in the series Misfits of Science and Family Ties. In 1994, Courteney hit fame when she starred against Jim Carrey in Ace Ventura: Pet Detective, and was the star of the 1996 slasher film Scream. She starred in the 2 sequels, and was also cast as Monica Geller in the show Friends, which gained her an international reputation. Since Friends, Courteney appeared in her own series Dirt, as well as a handful of films including the upcoming Bedtime Stories. Courtney has also directed the 2008 film The Monday Before Thanksgiving. Before starting Cougar Town, she appeared in three episodes of Bill Lawrence's Scrubs.
Ad blocker interference detected!
Wikia is a free-to-use site that makes money from advertising. We have a modified experience for viewers using ad blockers

Wikia is not accessible if you've made further modifications. Remove the custom ad blocker rule(s) and the page will load as expected.