Gulfhaven is small fictional town in Sarasota County on the west coast of Florida. Gulfhaven is sometimes nicknamed "Cougar Town" because of the North Gulfhaven High School's mascot, the cougar.[1][2] Gulfhaven is the hometown of all the main characters.
The Gulfhaven zip code is 32689.
The fictional Gulfhaven is only a 20 minute drive away from the real world city Sarasota, where Travis attends college.[5]
According to Jules' drivers license, her address is 9836 Freeling Drive, Gulfhaven, FL 32689.[6]
According to Ellie's drivers license, her address is 4027 Freeling Drive, Gulfhaven, FL 32689.[7]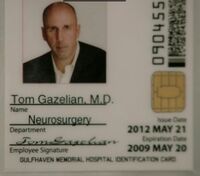 Gulfhaven is sometimes misspelled as two words (Gulf Haven), but according to Tom's hospital ID badge[8], Bobby Cobbs boat, Jealous Much?, and the high school, Gulfhaven is in fact one word.
Every year Gulfhaven is overrun by vacationing Quebecers during the annual crab fest.[9]
Reference
Edit
Ad blocker interference detected!
Wikia is a free-to-use site that makes money from advertising. We have a modified experience for viewers using ad blockers

Wikia is not accessible if you've made further modifications. Remove the custom ad blocker rule(s) and the page will load as expected.