Holly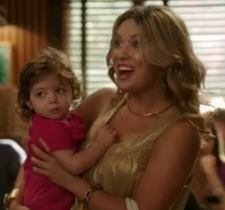 Full Name
Holly
Relatives
Tampa (Daughter)

Portrayed by 
Briga Heelan
Holly is the mother of Tampa with one time lover, Grayson Ellis.
Biography
Edit
During his sexually promiscuous phase, Grayson hooked up with Holly for a one night stand. That night, Holly conceived Tampa.[1]
Because Holly and Laurie were old friends, Laurie was named Tampa's godmother. Since discovering her existence, Grayson  visits Tampa.[2]
Reference
Edit
Ad blocker interference detected!
Wikia is a free-to-use site that makes money from advertising. We have a modified experience for viewers using ad blockers

Wikia is not accessible if you've made further modifications. Remove the custom ad blocker rule(s) and the page will load as expected.