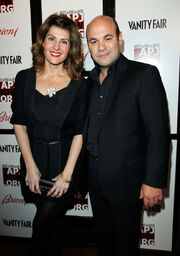 Ian Gomez portrays Andy Torres on Cougar Town.
Born in New York City on December 27, 1964, Ian participated in many improv troups including Chicago's ImprovOlympic. Ian is best known for his roles in the TV series Felicity and Norm as well as his role in the film My Big Fat Greek Wedding.
Ian has been acting for the screen since 1993 and has appeared in over sixty productions including the TV show The Drew Carey Show along with Christa Miller. He played Larry Almada.
Ad blocker interference detected!
Wikia is a free-to-use site that makes money from advertising. We have a modified experience for viewers using ad blockers

Wikia is not accessible if you've made further modifications. Remove the custom ad blocker rule(s) and the page will load as expected.