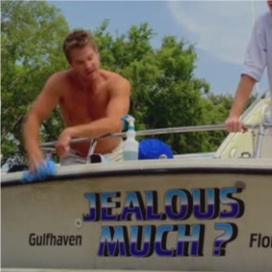 Jealous Much? is the name of Bobby Cobb's boat.
For most of Season One and Season Two, Bobby lives on Jealous Much? while it was parked in a lot on land. Jealous Much? was the birth place of Penny Can. Dog Travis occasionally lived on Jealous Much?, but came and went as he pleased. After spending the night together, Bobby assumed he and Jules would get back together, and briefly moved Jealous Much? to Jules driveway.[1] On a bet, Jules spent a weekend living on Jealous Much?[2] After selling Penny Can to Roger Frank, Bobby had enough money to move into an apartment. Immediately after moving out, Bobby allowed a depressed Travis Cobb to move on to the boat.[3]
References
Edit
Ad blocker interference detected!
Wikia is a free-to-use site that makes money from advertising. We have a modified experience for viewers using ad blockers

Wikia is not accessible if you've made further modifications. Remove the custom ad blocker rule(s) and the page will load as expected.