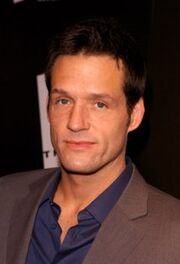 Josh Hopkins portrays Grayson Ellis on Cougar Town.
Josh was born in Kentucky in 1970 but eventually made it out to Los Angeles to pursue a career in acting. His first role for the screen was in the 1995 movie Parallel Sons. Since then he has appeared in over forty productions including multiple episodes of New York Undercover, Jack & Jill, Ally McBeal, Cold Case, Pepper Dennis, Vanished, and Brothers & Sisters. He is also known for his roles in the films The Perfect Storm, G.I. Jane, and Pirates of Silicone Valley.
Ad blocker interference detected!
Wikia is a free-to-use site that makes money from advertising. We have a modified experience for viewers using ad blockers

Wikia is not accessible if you've made further modifications. Remove the custom ad blocker rule(s) and the page will load as expected.