"Something Good Coming"
Season Two, Episode Twenty-One/Twenty-Two
Directed by Michael McDonald (Part 1); Bill Lawrence (Part 2)
Written by Jessica Goldstein & Chrissy Pietrosh (Part 1); Bill Lawrence & Kevin Biegel (Part 2)
Air Date - May 25, 2011 on ABC
Opening Sequence Subtitle: We'll never stop mocking the title...
Previous Episode: Free Fallin'
Next Episode: Ain't Love Strange

---

Watch this episode: ABC.com • Hulu.com
After Travis abruptly moves to Hawaii, the gang decides to go on vacation there; Grayson tells Jules that he wants to have kids; Laurie tries to lure Travis back home.
Guest Starring
Edit
Robert Clendenin as Tom
Carolyn Hennesy as Barb Coman
Sam Lloyd as Ted Buckland
Danny Pudi as Abed Nadir (uncredited)
Andrew DiPalma as Blake
Mike Brown as Derek
Sue Wyshynski as Lisa
Wiki Villa as Hawaiian Guy
Spencer Churchill as Boy
"Elmo's Song" by the Cul-de-Sac Crew
"Meet Your Ghost" by The Kickdrums
"Something Good Coming" by Tom Petty & The Heartbreakers
"Love Shack" by Ted Buckland
"The Trolley" Song by Ted Buckland
"Take On Me" by Ted Buckland
"Shiny Happy People" by Ted Buckland
"Morning Routine Song" by Grayson and the Cul-de-Sac Crew
"Something Good Coming" by Tom Petty & The Heartbreakers
The person sitting near Laurie and Travis in Subway is Danny Pudi. In "Community: Critical Film Studies (#2.19)", Pudi's character Abed Nadir mentions that he was allowed on the "Cougar Town" set to be an extra.
Sam Lloyd reprises his Scrubs role of Ted Buckland. Ted met his (ex-)girlfriend Gooch during the eighth season of that show. He also mentions Hooch, a surgeon whom Turk and J.D. accidentally drove insane; Ted quotes Hooch's last line on the show, "Hooch is crazy."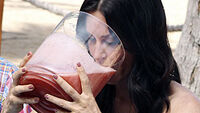 Ad blocker interference detected!
Wikia is a free-to-use site that makes money from advertising. We have a modified experience for viewers using ad blockers

Wikia is not accessible if you've made further modifications. Remove the custom ad blocker rule(s) and the page will load as expected.