Ted Buckland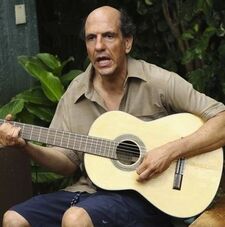 Full Name
Theodore "Ted" Buckland, Esq.
Portrayed by 
Sam Lloyd
Ted is a depressing former lawyer and current beach bum Travis and the group met in Hawaii.
Biography
Edit
Theodore "Ted" Buckland, Esq. was the lawyer of New Sacred Heart Hospital until he left to spend time travelling and with his now ex girlfriend, Stephanie Gooch. He now spends his time in Hawaii playing guitar and has the ability to turn any song into sounding sad.[1]
References
Edit
Ad blocker interference detected!
Wikia is a free-to-use site that makes money from advertising. We have a modified experience for viewers using ad blockers

Wikia is not accessible if you've made further modifications. Remove the custom ad blocker rule(s) and the page will load as expected.